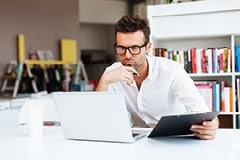 SAP101
Basic SAP Skills
This introductory course is designed for SAP beginners and will teach you the basics of the SAP system. After you have completed this course you will be comfortable working with the most commonly-used functions and features of SAP.
In this course you will learn:
Course Goal
Learn the basics of the SAP system with hands-on exercises
Understand how to run and print reports
Overview of the various modules in SAP
Use the SAP Business Workplace
Work with master data and post transactions
Learn how to navigate, search, and get help
Audience
Exam/Certificate
---
Lesson Plan
| | |
| --- | --- |
| Lesson | Description |
| 1 | SAP Graphical User Interface |
| 2 | Navigating SAP using the menu tree |
| 3 | Searching the SAP menu tree |
| 4 | Navigating SAP via transaction codes |
| 5 | User menu, Favorites & User Settings |
| 6 | Search help in SAP transactions & SAP Library |
| 7 | Printing in SAP |
| 8 | Basic Reporting |
| 9 | SAP Module Overview |
| 10 | Business Workplace |
| 11 | Working with Master Data - Create Vendor |
| 12 | Working with Master Data - Create Contract |
| 13 | Posting Transactions - Customer Invoice |
| 14 | Posting Transactions - Goods Receipt |
| 15 | Running Reports - Customer Balances |
| 16 | Running Reports - Stock Overview |
---
Career Paths
This training course is included in the following SAP Career Paths:
---
---
| | |
| --- | --- |
| Level: | Beginner |
| Duration: | 8 hours |
| Type: | Simulation |
| Delivery: | Online, self-study |
| Release: | ECC 6.0 |
| Category: | Essential SAP Skills |
| Exam: | 110+ questions |
Share this course with a friend
5435
students enrolled.
Join them!

Great comprehensive courses!
-Mark Anthony V.
QA Manager
CHS Inc.
Related Training
Training for 2 or more people?
Unlimited access for your entire SAP team including admin platform and premium reporting.
We offer 3 different types of online courses
Overview Courses
Courses introduce various topics, discussing respective functionality, usage and integration. Information is presented pictoriallyat a high-level of discussion to cover a broad spectrum of the topic.
Simulation Courses
Courses cover detailed entry/transaction scenarios using hands-on activities, simulated as if you were logged into the actual course system.
Instructor-led Courses
Courses are designed, created and narrated by designated Instructors in their field of expertise. A course may contain detailed demonstrations of an application screen with entry examples and/or high-level discussions.

When learning a new module in SAP, we suggest starting with the Overview course first, followed by associated End User Courses and then Instructor-led Courses for additional learning experiences.
Critical & Recommended Prerequisite Courses
Do I really have to take all these courses?
We put a lot of effort into the design of our curriculum and each course builds upon the next. While you are free to take any course in any order with or without taking the prerequisite courses we strongly suggest you follow the designated curriculum plan for the best learning experience. At a minimum, you should complete (or have prior knowledge in) the critical prerequisite courses.
For example, let's say you want to take the FIGL101 - Basic General Ledger Accounting course. This course assumes that you have taken all of the recommended prerequisite courses and will not cover any of the necessary knowledge from these courses again (i.e. it won't explain how to run a report in SAP because the prerequisite course SAP110 already did that). If you don't know how to do this you will feel lost in the course or feel that something is missing. That's why it is important to follow our curriculum plans.
Final Exam & Certification
In order to receive your MMC Certification for this course you have to:
complete all lessons in this course
pass the final exam with at least 80%
The final exam consists of a random pool of questions. You will have to answer 40 random questions in 80 minutes and achieve an 80% pass grade to get your certification status.
Make sure to study thoroughly for the final exam as it is challenging. The average failure rate upon the first attempt is 40%. You may repeat the final exam until you have passed it without any additional fees.
Once you are an MMC Certified SAP Professional you (or your employer or client) can validate your certification status on our website.
Certification and exam fees are included.
Certified SAP Professional
Complete this course to earn your Certified SAP Professional designation for the current year. You can then include your badge on your resume, your LinkedIn profile, your email signature, etc. to show off your SAP skills.