Pleasanton,US
Todd Teshima
E-Learning Course Creator & Instructor
---
Accounting professional with substantial professional experience delivering exceptional results for several industry pioneers. Applies a unique blend of core competencies, command of GAAP, and best practices to analyze and report complex business transactions. Identifies process improvements resulting in practical enhancements, significant cost/tax savings, and reduced audit risks. Cultivates collaborative partnerships with cross-functional groups streamlining exchanges of critical time-sensitive information. Substantial experience with major ERP systems including SAP and Oracle implementing, supporting, and providing formal training for several applications. 
Courses by Todd Teshima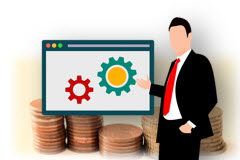 ---

Slides were easy to follow. Instructor easy to understand. Some transitions between slides were too quick, and I had to go back to fully collect all the information on the slide. Overall, good job.

Good intro/overview!! TY for the insights.
4.3 Average Rating
15 Reviews
678 Student Views
1 Courses
Are you an SAP Professional?