Columbus,US
---
Matthew has worked as a VB.Net and ABAP developer for almost 9 years at Eastman Chemical Company. He is a .NET and SAP ABAP developer, and can effectively establish and support a connection between the two languages. While at Eastman Chemical Company, he has supported the logistics area in deliveries, output documents, shipments as well as rail car management. He has also supported their material master solution and PM area. Matthew is currently working at Aflac as an ABAP developer in the financial area, supporting AP, Travel, and Financial Control.
Courses by Matthew Smith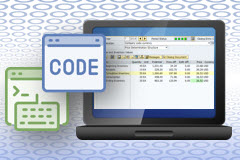 ---

This was a very informative class on a topic that I don' t usually get involved with.

4.4 Average Rating
7 Reviews
230 Student Views
1 Courses
Are you an SAP Professional?