Charlotte,US

James Carrothers

---
With over 20 yrs. of SAP experience, James likes to say he had a real job working as a Productions Supervisor, Industrial Engineer, Corporate Commodity Buyer, and Purchasing Manager before SAP. His real-world experience has provided a platform to better understand business requirements and knowing the needs of his clients and what they experience in performing their day to day duties. He knows what it means to have deadlines, missed shipments, inventory issues, and personnel opportunities. With 8 years of Big 4 consulting experience employed with PWC, BearingPoint, and Deloitte along with two Bachelor Degrees in Business and Industrial Technology, an MBA, Graduate Certificate in Information Technology and pursuing a Doctorate in Business from the University of North Carolina at Charlotte. James possesses the SAP technical background and business knowledge to bring solutions to clients in consulting and training in the areas MM and Supply Chain Management. With SAP Industry experience in Aerospace and Defense, Automotive, Defense, Defense Contracting, Consumer Products, Metals, Mill, Retail, Public Sector, High Tech, Pharmaceutical, Chemical, Insurance, Poultry and Banking, James has both depth in breath in working in all businesses that SAP supports to bring solutions to clients needs.
Courses by James Carrothers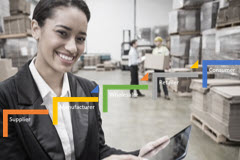 ---

The lessons that loaded were very good. However, a few would just spin and never load. I began setting a timer and if it didn't load an image at all in 1 minute... I moved on by hitting the next button. I don't think it is a connection issue on my side because what did load played almost immediately and never had to buffer. I also am able to watch Netflix movies on my device without trouble. I'm thankful for the course handout to review. Edit: After my review discussing my technical difficulties with the course material loading (above), I was contacted by Michael Management and told that the course were compressed and appeared to be working. I went back and watched all of the lessons that wouldn't load over the weekend and raised my review of the course material. It was excellent. Thanks for the lessons and the support. This class touched on the basic premise of SCM/Materials Management which is a balancing act and the flow of materials is how companies plan and control their processes. Mr Carrothers explained clearly how SAP helps manage the systems to improve productivity.
4.5 Average Rating
86 Reviews
3689 Student Views
1 Courses
Are you an SAP Professional?