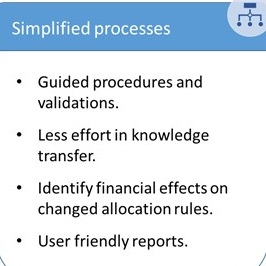 Universal Cost Allocation is the new simplified functionality in SAP S/4HANA to allocate and distribute cost periodically from one controlling object to one or more others. For example, the costs incurred at a cost center that provided services for other cost centers can be transferred to these cost centers with defined rules.
With this functionality, just a few Fiori Apps are used to perform the allocations of cost centers, profit centers, and margin analysis considering both actual and plan records. Indeed, financial and Controlling allocations are built in one architecture using the core tables for Universal Journal actual line items (ACDOCA) and plan items (ACDOCP).
Challenges Associated With Traditional Cost Allocations
With the traditional cost allocation processes, organizations face some challenges. Mainly they are related to difficulties to understand their allocation cycles and the resultant cost flows, struggling to explain them to the relevant stakeholders. Also, there is a lack of traceability to analyze the cost allocated compared to the actual cost invoiced; without having granular visibility at the reporting level.
In addition, the organizations are managing uncertainty in current times having dynamic and complex processes. That may lead to difficulties to define the desired scenarios in allocation cycles and without having tools to simulate possible financial effects of changed allocation rules on their financial data. Also, the execution of the allocation processes and reporting may take long runtime.
Please refer to the image below for further challenges:

Main Benefits
The new Universal Cost Allocation functionality in SAP S/4HANA reduces the number of transactions to run the cost allocations compared to previous versions. It is needed to run just a few Fiori Apps, that are user friendly and having guided procedures and validations to make the user more confident with the tool.
In addition, it provides a simplified data model by removing a handful of core tables which in return reduces the database size significantly. Besides, significant benefits are listed in the image below:
Features
Universal Cost Allocation offers several features and capabilities to make easier the cost allocation processes, and the related reporting and analysis performed to make business decisions. Customers can quickly identify the possible financial effects of changed allocation rules on their financial data.
The solution can perform allocations for actual data and plan data, providing simulation capabilities with the definition of predictive ledgers. It also offers user-friendly reporting built-in Fiori with the capability to analyze the records in multiple currencies.
Refer to the image below for further features:
However, the new solution does not cover the following allocation processes that require to keep using the original transactions in SAP GUI system:
Direct activity allocations
Template allocations
Settlements of internal orders or WBS Elements
Key Processes and Fiori Apps
Universal Cost Allocation allows you the creation and execution of the following type of allocation cycles using the same Fiori Apps for all of them.
Distribution: Reallocate primary costs from one or more cost centers to other cost centers or WBS elements, or profit centers to other profit centers. The allocation credits and debits the objects using the original G/L accounts, so it makes more sense for fewer senders

Overhead Allocations: Similar to distributions, for primary and secondary costs. Instead of debiting and crediting the original G/L account, a secondary cost account with category 42 is used. It can be useful when the original account is not so important or multiple senders.

Top-Down Distribution: New term for account-based profitability analysis. Used for costs such as freight/insurance at a generic level, such as company code, customer group, or product group, and then want to do a top-down distribution to a more specific profit segment level. It is available on SAP S/4HANA 1909 FPS01 release or newer.

The Fiori Apps to perform the allocation processes are listed in the picture below:
Manage Allocation App: Enable you to maintain the allocation cycles and their corresponding segments to allocate and distribute primary and secondary costs from one object to one or many others. You can search for specific allocation cycles or filter the allocation cycles by various criteria, ensuring that the assigned rules are accurate.

Run Allocations App: Perform a test run or actual run of any existing allocation cycle and then display the details of the completed runs. You can also reverse a completed run.

Allocation Results App: View the results of allocation runs, for both test runs and live runs. You can analyze any errors or warnings that occurred. It is available on SAP S/4HANA 1909 FPS01 release or newer.

Allocation Flow App: Display a visual flow of senders and receivers for an allocation and the respective debit and credit amounts. It is an ongoing improvement for SAP S/4HANA 2020.

Organize Allocations App: Identify and maintain the allocation cycles collectively according to specific filter criteria. It is an application that will be available in future releases.

Allocation Tags App: Create and assign allocation tags. Assign the tags to allocation cycles in order to simplify the management of your allocation cycles. It is an application that will be available in future releases.

Import Statistical Key Figure Plan Data App: Upload statistical key figure plan data from a comma-separated values file (CSV file). A statistical key figure is a number providing information about non-monetary data assigned to cost centers. For instance: number of employees, number of computers, building surface... Statistical key figures can be used as a reference for universal cost allocation.

Manage Statistical Key Figures App: Modify and display the statistical key figures available in the system according to specific filter criteria. It is also possible to create and copy statistical key figures as master data elements.
The next post in this 2 part blog series will be an overview of Cost Allocations. It will dive into a deeper look at one of the key functions and processes within Universal Cost Allocation in S/4HANA.