Charlotte,US

Robert Weber

Sr. SAP Archiving Specialist
---
Robert C. Weber, CPIM, CIRM has over 20 years of experience in SAP Cross Application skill sets which includes 15 years of full life-cycle archiving and other SAP experience in security, data volume management and project management. Some of the companies he has performed archiving services include Bristol-Myers Squibb, Hitachi, Butterball Turkeys, Home Depot and BMW. He is certified in the APICS CPIM (Certification in Production and Inventory Management) and CIRM (Certification in Integrated Management) and has taught 50 certification courses at multiple companies and colleges.
Courses by Robert Weber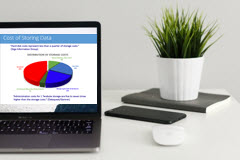 --- good info...wish was more interactive and gave examples of an archiving scenario

Archiving principles direct and on point.
4.5 Average Rating
11 Reviews
275 Student Views
1 Courses
Are you an SAP Professional?