Koblenz,DE

Dragan Lovrincevic

---
Dragan helps new developers to get their first ABAP job and their very first freelance ABAP contract. He has more than 30 years of professional SAP ABAP development experience in 17 different industries. He has been working as a freelance ABAP technical consultant for the last 25 years in international projects for 27 multinational companies. He worked for American Express Cards, Kimberly-Clark, Volvo, Ford, Mercedes, Porsche, ZF, Airbus Group, etc. and he worked in different countries like Croatia, Australia, Holland, Germany, UK, Italy, Belgium, Luxemburg, Sweden. The focus in his courses is on emphasizing to new ABAP developers the importance of improving their debugging skills. His recommendation to new ABAP developers is straightforward: the current and future systems are going to be even more complex so making an extra effort to invest in the constant improvement of own ABAP debugging skills should be a priority to any developer who wants to move quicker and higher in his/her career. To have the ability to quickly fix problems in complex software environments is the precious skill to nurture for any serious ABAP professional. He is also quick in giving the encouragement to his doubtful students who are sometimes confused and demotivated with ever growing number of technologies.
Courses by Dragan Lovrincevic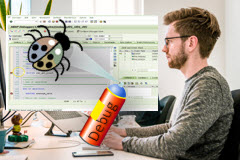 ---

great course - very useful and logical for how to be more effective debugger.
Excellent presentation...
5.0 Average Rating
3 Reviews
258 Student Views
1 Courses
Are you an SAP Professional?