,HU

Alex Gonczy

ABAP Developer and Trainer
---
Alex is an ABAP Developer and Trainer with over 10 years of experience and skills. He is a hardcore member of the Expertise-Team, a consulting, training, and software development company (expertise-team.com), a group of SAP professionals developing mostly in SAP Business Warehouse, programming with ABAP and delivering Mobile solutions (like Xamarin, ...). Alex is an experienced ABAP Developer with a wide range of IT skills and experience such as Test Driven Development in ABAP, Object Oriented ABAP, XML and Web Services in ABAP, ABAP Webdynpro Development, SAP Application Components, Customizing and many more. He is always open-minded for learning new technologies and practices because he believes that one became more and more valuable with the useful and popular IT technologies. You can enjoy many, simplified real-life examples by watching his courses. This is the best way of learning new things. Isn't it?
Courses by Alex Gonczy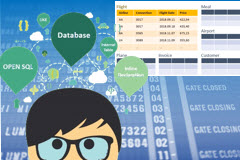 ---
ABAP for SAP Users
Are you a functional SAP specialist looking for technical training that improves your overall skills...
---
4.6 Average Rating
59 Reviews
3169 Student Views
2 Courses
Are you an SAP Professional?