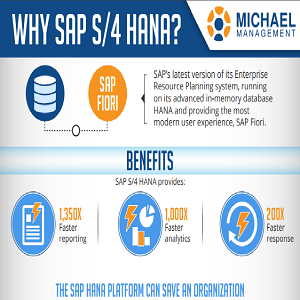 Are you on the fence about upgrading to S/4 HANA?
More than 291,000 companies are using SAP, and 80% of them are small and medium size enterprises. That's also 87% of the Forbes Global 2000 companies. If you shop online, chances are you've used SAP, because 74% of the world's transactional revenue touches an SAP system, somewhere.
Did you know?

90% of all the world's data has been created in the past two years
Business networks grew 40% between 2015 and 2017
By 2020, there will be 9 BILLION mobile users
And 212 BILLION "things" will be connected
What Is SAP S/4 HANA?
S/4 HANA is SAP's latest version of its Enterprise Resource Planning (ERP) system, running on its advanced in-memory database HANA and providing the most modern user experience, SAP Fiori. It also creates a "core" that connect your company with people, networks, Big Data and IOT. S/4 HANA offers your company a better integration between head offices and other locations using a two-tier placement method. Machine learning gives you better efficiency, automation and agility.
There's a lot that's included in the new S/4 HANA release 1709, which came out September 15th. HANA is the newest SAP database, and S/4 is the ERP software release that runs on top of it. This suite is intended to run all of a company's day-to-day processes in an enterprise, consolidating and automating core processes, using a simpler data model.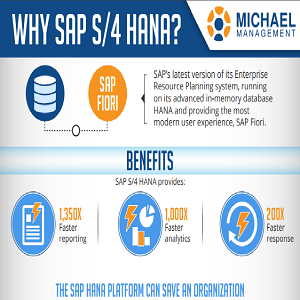 S/4 HANA is intended to be run in a cloud platform, whether your company's own data center, SAP's cloud or in the public cloud with Azure, AWS or Google Cloud.
SAP S4HANA is the next-generation ERP, and newest business suite for SAP users and customers, built on the advanced SAP HANA platform. It allows your company to lower your operating costs by radically streamlining your systems landscape. Right now, more than 1,300 companies worldwide are using S/4 HANA, with more to come. In fact, most companies expect to upgrade to S/4 by 2023. SAP's browser-based Fiori also runs on S/4 HANA, creating a better user-centered work experience for commonly used functions.
Curious about the new S/4 HANA transaction codes? We've compiled a complete list for you, available for download on our website.
Expections for S/4 HANA
What about the companies that are migrating from their current SAP ECC 6 release to S/4 HANA? They certainly have high expectations for the new system, including:
59% of companies anticipate improvement in current business processes
58% of companies anticipate reduction in running and maintenance costs
46% of companies anticipate improvements in running reports (simplification and speed)
42% of companies anticipate readiness for SAP's Digital Core
35% of companies anticipate holistic, real-time access to information
17% of companies anticipate improvements in the user interface
Why Companies Upgrade to S/4 HANA
While there are many reasons for companies to migrate to S/4 HANA, the main business drivers that SAP customers list for migration include:
Simplification, 31%
Performance, 26%
Finance Enhancement, 13%
Fiori/Mobile support, 12%
Only about 1,300 of SAP customers are now using S/4 HANA. What about the rest of the companies using SAP?
51% plan to migrate into S4 HANA in the next 5 years
29% are keeping SAP ECC as it is now
19% are still undecided
1% plan to migrate to a different ERP vendor
The Benefits of S/4 HANA
Based on SAP's claims, the S/4 HANA platform can offer your company (presumable compared to their previous versions or competing software solutions):
70% savings when buying software
15% savings when buying hardware
20% savings on labor
What Can You Expect from S/4 HANA?
The HANA database was built for speed – it is lightning fast compared to other databased. As such, the primary benefits that SAP S/4 HANA offers are:
1350x faster reporting
1000x faster analytics
200x faster response times
Is your company considering migrating to SAP S/4 HANA? Why or why not? We'd love to know why, so please feel free to comment at the bottom of the page.
Are you ready to learn how to use SAP? Michael Management makes it easy to learn what can be a complicated software to use. We've been helping people just like you effectively learn SAP or upgrade their SAP skills since 2000. You can see a full list of our S/4 HANA training courses on our website.
And if you have a team of people to train check out our SAP training for businesses page. We offer affordable subscription options for small teams and large enterprise plans.