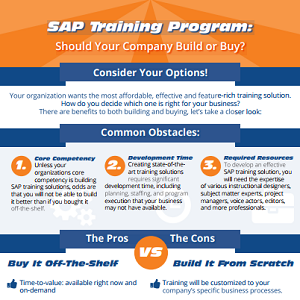 OK, so your company needs SAP training...maybe you are about to go live or maybe you need to train a few new hires. Either way, the question is: Should your company buy ready-to-go training or build its own custom training?
Well, the answer is certainly not easy or clean cut. Both approaches come with their pros and cons that you need to weigh against your training requirements, budgets and timing.
Take a look at this new infographic to understand the different pros and cons for each training approach - this will help you make a smart decision for your own company.
And if you need a little help figuring it out, give us a ring! We'll gladly sit down and have a simple conversation with you.
Infographic: Build or Buy SAP training