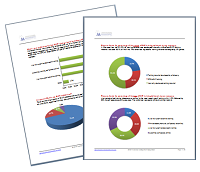 How much can we learn from over 1300 SAP experts and their insights into SAP training? Let's find out. Michael Management Corporation, the award-winning provider of online SAP training solutions, has surveyed 1303 SAP professionals from 79 countries in Q1/2016 about their experiences and expectations with regards to SAP training.
We crunched the numbers and then reached out to industry expert and ERP Market Analyst Jon Reed to provide an analysis and commentary for our survey.
Some of the key findings of this year's SAP training survey are:
The traditional classroom model continues its decline. Only 28.1% mention it as their preferred training.
In contrast, almost 65% of respondents prefer online training over any other delivery method.
Almost 46% of SAP professionals say that they can devote 30 minutes – 1 hour per training session.
You can download the enture survey now using this link: