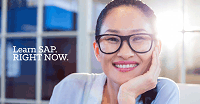 If you're anything like me you like to keep an eye on what's trending in the SAP training world. Specifically, I like to keep tabs on what everybody is talking about (i.e. SAP HANA, Fiori, etc.) versus what SAP training courses people are actually taking – and there's a big difference!
So I asked our web development team to create a report for everyone to see what SAP training course are really trending – take a look for yourself: SAP Training Hot List.
And while we're at it…here are 2 additional reports:
Top SAP training courses of all times – before you click on it: can you guess what courses are the most popular courses since we started our SAP training business in 2007?
Newest SAP training courses – a list of the most recent online SAP training courses we released. HANA training? Check. SuccessFactors course? Check. Keep an eye on this list as we usually release a new course every month.
And if you're looking for a specific course but can't seem to find it, just contact us and we'll point you in the right direction.